Yoga Dance and Zumba Library
"Happy Together" A Chair Yoga Dance We all Can Do Together! with Sherry Zak Morris
Stand or Sit - But Just Move! Dance the Macarena with Sherry Zak Morris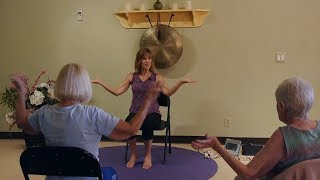 "Stop in the Name of Love!" Chair Yoga Dance with Sherry Zak Morris
Here Comes the Sun - Chair Yoga Dance with Sherry Zak Morris
Flow like a River! Fluid, Flexible and Resilient - Chair Yoga Dance with Sherry
Dance to the Jamaican beat! Zumba with Alessandra Colfi, PhD, Expressive Arts Therapist
Beating Cancer with Dancing! "Crazy Love" Zumba with Alessandra Colfi, PhD
Stay Strong LIVE! Active, Empowering Dance led by Olga Danilevich
Zumba to Feel Your Heartbeat! with Alessandra Colfi, PhD, Expressive Arts Therapist
"Happy Together" A Chair Yoga Dance We all Can Do Together! with Sherry Zak Morris

There's something magical about coming together and doing something fun and playful. This is a familiar song from the 1960's that will get you moving and swaying and feeling good. Remember, we are working our memory and coordination while having fun... so keep it light and playful!

Stand or Sit - But Just Move! Dance the Macarena with Sherry Zak Morris

You never know when there will come a time you need to do the Macarena Dance again. So, let's brush up, get our bodies moving and our blood flowing! This Dance repeats a lively pattern that brings a smile to everyone!

"Stop in the Name of Love!" Chair Yoga Dance with Sherry Zak Morris

Everyone knows this beloved song by the Supremes! Come join in and find the rhythm and the pattern of this Chair Yoga Dance! My very special thanks to Judi in Tennessee, a Chair Yoga Teacher who shared this song in her Yoga Vista Academy Teachback class. We just embellished it a bit. Thanks Judi for the inspiration! And thanks to Diana and her Supremes for bringing back memories of awesome days gone by!

Here Comes the Sun - Chair Yoga Dance with Sherry Zak Morris

Want to welcome in a new attitude and energy into your being. Here's a song everyone knows and our first standing Chair Yoga dance. Get up and move with us!

Flow like a River! Fluid, Flexible and Resilient - Chair Yoga Dance with Sherry

Enjoy "The River" by Garth Brooks. Flow with us! In our Chair Yoga classes we work on strengthening our structure with specific movements that help align our muscles and bones. But, we also have lots of fun moving in fluid ways that will keep you agile, flexible and resilient. Feel the flow in this gentle Chair Yoga Dance that focuses on stretching and opening up the tight areas in the low back and shoulders. Flow like a River!

Dance to the Jamaican beat! Zumba with Alessandra Colfi, PhD, Expressive Arts Therapist

Dance to the Jamaican beat! Alessandra leads this lively and sensual Zumba dance at the Yoga Vista Studio where we offer weekly Zumba classes for Cancer Recovery. Bring the joy into your being with the beautiful energy of dance, breath and life!

Beating Cancer with Dancing! "Crazy Love" Zumba with Alessandra Colfi, PhD

Dance to the beat of this lively song choreographed by Alessandra Colfi, Expressive Arts Therapist. Recorded live and shared with the world as part of our passion for beating cancer through our Cancer Recovery Programs offered at the Yoga Vista Studio in Vista, California.

Stay Strong LIVE! Active, Empowering Dance led by Olga Danilevich

Motivational, inspirational and physically uplifting Chair Yoga Dance sequence anyone can do! Olga leads this lively foot-tapping, arms-swaying and heart-lifting seated dance to a roomful of Seniors at the Yoga Vista Studio. Grab a chair, get moving and even sing along!

Zumba to Feel Your Heartbeat! with Alessandra Colfi, PhD, Expressive Arts Therapist

Ready to warm-up and feel your heart beat!? Enjoy this gentle Zumba dance choreographed by Alessandra for our Cancer Recovery students at the Yoga Vista Studio in Vista, California. Everyone can benefit from some heartfelt music, smiling and dancing! Enjoy!

Get Moving with Zumba! Led by Alessandra Colfi, PhD

Bring a smile to your face and your body and Get Moving! Zumba is not only good for your body, but it is good for the soul. Forget your worries and cares... just get up and MOVE!

Counteract Arthritis with this Chair Yoga Dance led by Olga Danilevich

We all know that moving our joints every day will keep arthritis at bay! So why not add a little music to your arthritis exercises. Olga leads you through a simple Chair Yoga Dance that will brighten your spirits and get your joints moving!

"Everything Here is Alright"! Slow Dance of Love with Olga Danilevich

Enjoy the soothing lyrics and swaying movements of this beautiful and inspiring Chair Yoga Dance choreographed by Yoga for Seniors Teacher, Olga Danilevich of Toronto, Canada. This song will touch your heart and brighten your spirit. Music and Lyrics by Linda Worster.

Chair Yoga Dance! Take It Easy! A Tribute to Glenn Frey of the Eagles! Sing and Dance along!

For those of us who grew up listening to the songs of the Eagles Country Rock Band, join in this fun and lively Chair Yoga Dance and Take It Easy! Yoga everyone can do!

Chair Yoga Dance: What a Wonderful World with Olga Danilevich

Enjoy the soothing flow of this familiar song. Olga does her magic again by creating a meditation in motion Chair Yoga Dance that will enliven your entire body. Everyone can move and enjoy this seated Chair Yoga Dance!

"Ella Ella" Zumba® choreography with Alessandra Colfi

Join in this fun and mesmerizing Zumba® dance for Cancer Recovery and Prevention. Expressive Artist Therapist, Alessandra Colfi, PhD leads this expressive dance sequence designed especially for anyone undergoing cancer treatment and recovery. Playful, uplifting music is combined with gentle but lively movements sets the heart and soul at ease.

Chair Yoga Dance: Listen and Laugh with Sherry Zak Morris

Get your heart rate up and a smile on your face with this lively Chair Yoga Dance to the music of Bob Seger. Not only will you feel the flow of energy in your body, your heart will be touched by these inspirational words of encouragement and love. Thanks to Bob Seger for sharing his wisdom through music over the years! Detroit and Cleveland Rock!

Dancing in the Streets! Chair Yoga Dance with Irene in Australia

All the way from down under, you will remember this fun upbeat song that will get you moving and grooving again. Just follow the simple pattern and get that heart pumping and mouth smiling!

Somewhere Over the Rainbow: Chair Yoga Dance to Brighten you Up! with Sherry Zak Morris

Just about everyone knows this song, but this version is an extra special one because of its "you gotta move" beat and rhythm! Feeling down? Remember the sentiment of the song... have hope that there is something "beyond" that is wonderful, lovely and beautiful and that place is always in your heart! Sing, smile and sway along with us!

Living on the Corner of Joy and Gratitude! Dance and Live it! with Sherry Zak Morris

Imagine waking up every day and feeling Joy and Gratitude. This uplifting song was written by Jaquelyn Woodroffe and you can't help but feel the optimism and appreciation in her beautiful voice. The beat and lyrics are contagious! Put your "Happy On" today and dance with us! Love this song? It was recently published by a local musician where I found her singing this song at a local church service! I immediately purchased her "Speak the Word" CD at the church bookstore! Love finding and sharing these treasures with you!