Yoga Education & Resources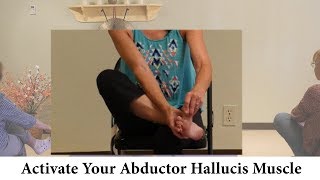 Get that Big Toe Moving! Knowledge for Bunions with Sherry Zak Morris, C-IAYT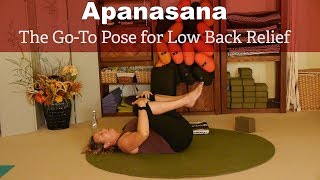 Go-To Yoga Pose for Low Back Relief with Justine Shelton, Viniyoga Therapist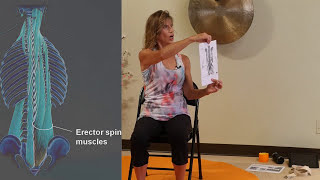 How to Get an Erect Spine - Simple and Powerful Yoga Movements with Sherry Zak Morris, C-IAYT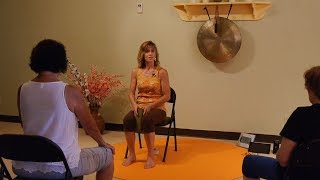 Important Facts to Know: From Pelvic Floor to Joint Mobility with Sherry Zak Morris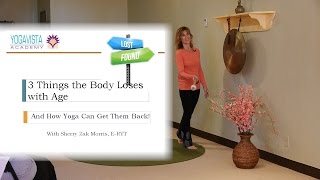 3 Things the Body Loses with Age, and How Yoga Can Get them Back! with Sherry Zak Morris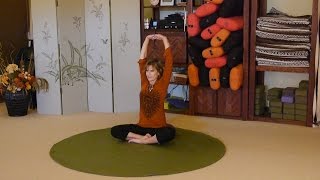 Bone Strength: How Yoga Builds Strong Bones with Sherry Zak Morris, E-RYT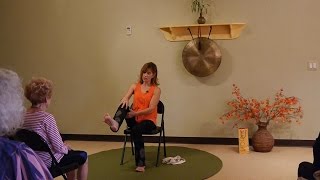 A Tip to Keep Your "Tweaky" Knee Safe and Healthy with Sherry Zak Morris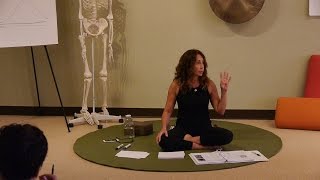 Metabolic Syndrome: Do you have these 4 Things? with Monique Lonner, Yoga Therapist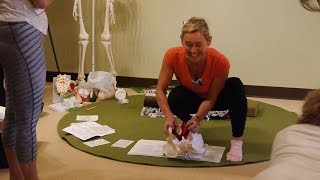 Why Squatting is so Important to your Pelvic Health - with Viki Boyko, Yoga Teacher
Get that Big Toe Moving! Knowledge for Bunions with Sherry Zak Morris, C-IAYT

Many people, especially women, suffer from bunions which are caused by the improper alignment of the big or little toe. Lots of times it is caused by misfitting shoes, or maybe those stylist high heels, or a misalignment in the walking gait. No matter, they are painful and often unsightly. The jury is out on whether severe bunions can be cured without surgery, but understanding the biomechanics of what causes and relieves them is important. Give a look-see how it works.

Go-To Yoga Pose for Low Back Relief with Justine Shelton, Viniyoga Therapist

If you took the time to slow down and feel the sensations in your low back... what would you feel? Pain, tightness, constriction? Would you take 6 minutes to help it feel better? Nurture your low back with this simple Gentle Yoga sequence that will release tension and tightness in your low back.

How to Get an Erect Spine - Simple and Powerful Yoga Movements with Sherry Zak Morris, C-IAYT

Let's work on the muscles that keep your spine straight and erect. Here is a mini anatomy lesson that will make lots of sense! Now, every time you do the popular Yoga cat/cow pose... you will understand its powerful benefit!

Important Facts to Know: From Pelvic Floor to Joint Mobility with Sherry Zak Morris

Here are some tips for keeping ourselves healthy, hydrated and mobile as we age. If any of this makes sense... take it to heart and give it a try. If not... join in for the 20-count Blast-offs anyway!

3 Things the Body Loses with Age, and How Yoga Can Get them Back! with Sherry Zak Morris

Whenever I am asked to speak about the benefits of Yoga for people over 50... I'm all in! I've spoken to people in church halls, conference rooms, parking lots, health fairs and lots of places around my community. I often have people in the group that have never done Yoga before, so I have to be creative and meet them where they are at in their minds and in their bodies. One topic I find that really gets people's curiosity up is .... What, if anything, can be done about aging, aches and pains? I created a Community Workshop called "3 Things the Body Loses with Age, and how Yoga can Get Them Back!" and I finally had the opportunity to film it

Bone Strength: How Yoga Builds Strong Bones with Sherry Zak Morris, E-RYT

Osteoporosis and Osteopenia are conditions caused by the weakening of our bones which can break if we fall. Even if you have these conditions, your bones can get stronger again with Yoga. Anytime you bear weight, your bones are stressed (in a good way!). Here are a couple of simple Yoga movements to help you build bone and muscle strength!

A Tip to Keep Your "Tweaky" Knee Safe and Healthy with Sherry Zak Morris

Do you ever feel your knee "going out" when you roll over or change body positions? I do! I have what I call a "tweaky" knee, which to me means it feels unstable sometimes with certain movements. I learned this great tip to help stabilize your knee when you change positions. Give it a try!

Metabolic Syndrome: Do you have these 4 Things? with Monique Lonner, Yoga Therapist

Metabolic Syndrome is a complex health state which may be hard for the lay person to understand. If you have been diagnosed with this condition or know someone who has, this "easy to grasp" definition will help! Monique is a master at making complicated concepts understandable with humor and yes... a bit of dark chocolate. Enjoy Monique's full 3-hour workshop on "Understanding Metabolic Syndrome in the 50+ Population, and the Yoga Prescription for Balance". Visit http://www.YogaVistaAcademy.com

Why Squatting is so Important to your Pelvic Health - with Viki Boyko, Yoga Teacher

Take a tour inside your pelvic floor to better understand why you need to keep (or bring back) your ability to squat! Viki shares a bit of anatomy and a bit of reality as she delves into the reason why squatting will keep your pelvic floor healthy and performing well. Grab two Yoga blocks and listen up! Enjoy Viki's 3 hour Video Workshop that is chockfull of useful, educational, entertaining and enlightening information for your Pelvic Floor Health. For more info, visit http://www.YogaVistaAcademy.com

Got Neuropathy or Bunions in your Feet? Try this and Feel Better! with Justine Shelton

Do you have prickling and tingling sensation in your feet? Or a feeling of "pins and needles" or numbness? Do you have uncomfortable bunions in your big and/or little toe? These conditions can affect the way you walk and stand, let alone cause you alot of pain. Yoga Therapist, Justine Shelton, shares a foot stretch sequence that might not seem or look so fun, but it can help with these conditions. Always remember to take these movements slow and easy. You can benefit more by doing them over the long haul rather than alot at one time.

Pelvic Floor Exercises 101 with Viki Boyko, Yoga Teacher

The pelvic floor has muscles that expand and contract with every breath we take. This movement keeps the pelvic muscles healthy which we need to keep our posture strong and stable, and our pelvic organs in place. If you are looking for ways to increase or maintain your pelvic floor health... make sure to include this simple and effective breathing practice. Enjoy Viki's 3 hour Video Workshop that is chockfull of useful, educational, entertaining and enlightening information for your Pelvic Floor Health. For more info, visit http://www.YogaVistaAcademy.com

Gentle Yoga for Healthy Hips: An In-depth Interview with Justine Shelton

The Creator of the popular Gentle Yoga for Healthy Knees and Hips DVD, Justine Shelton, answered these important questions about the practice of Yoga for Hip Health: * Why can't my hips move like other people's? * What is the importance of Hip Openers? * Why is Yoga so Beneficial for the Hips and other joints? * How should I practice Yoga if one hip is tighter than the other? * How tight hips muscles can lead to poor posture and even sciatica pain * How does the SI Joint affect Hip and Low Back health? * Can Yoga help for issues like Hip Replacements, Osteoarthritis or Bursitis in the Hips? * Sometimes strong emotions come up when practicing Yoga, why is that?

Arthritis Relief for Hands and Feet - Loosen the Fascia that Binds us!

As we age, our Fascia (the netting that binds us together), gets stiff and reduces the flexibility of our joints and body. Sherry Zak Morris, Chair Yoga Teacher & Trainer, guides you through some effective techniques to loosen up your fascia using a tennis ball. The more you do these, the more you will find freedom of movement in your hands and feet.

The Role of Adrenal Health in Building Vitality - Yoga Therapy with Justine Shelton

Building vitality and energy comes when our adrenal glands are working properly to regulate our hormones. Otherwise when stress comes, cortisol levels rise and we feel tired and drained. To build energy, sometimes less is more. Take time to slow down with this Yoga Therapy sequence led by Justine Shelton, AVI-Certified Viniyoga Therapist.

Hip Stabilizer Muscles Help with Your Balance: Chair Yoga sequence with Sherry Zak Morris, E-RYT

Most of us know about the gluteus maximus muscle, but did you know there are two other gluteus muscles? Yes, the minimus and medius... and those muscles help stabilize the hips and legs so that you can balance better. This short hip strengthening series will surely help you to feel and appreciate ALL your glutes!

Deluxe Edition of "Picking Fruit": A Memory & Movement sequence for Fun!

Using the analogy of picking fruit, these movements incorporate reaching, stretching, bending and twisting along with remembering the movement patterns in a sequence. Give it a try! The more often you do it, the better you get. And the better you will feel.

Strengthening the SI (Sacroilliac Joint) with Backbends - with Justine Shelton

Strengthen the musculature around the SI joint with this therapeutic series of Gentle Yoga back bends. By repeating these movements several times, and then holding, will help to stabilize your low back.

Stretching and Moving the Diamond: Thoracolumbar Fascia Chair Yoga Stretches

You have a precious diamond on the backside of you that needs your attention! The thoracolumbar fascia (TLF) is a diamond-shaped connective tissue found in the small of the back, and can be implicated in low back pain. In a recent study the TLF was found to be thickened by 25% or more in patients with chronic Low Back Pain. Learn more about this Diamond and try these easy, gentle movements to stretch and move into this area to bring relief to that tense, binding feeling. All done while sitting in your chair!

Hip Flexor Trio Stretch: A Great Way to Improve your Gait with Sherry Zak Morris

Our hip flexors are our gait muscles. They help propel us forward with every step we take. The tighter these muscles, the shorter our walking gait can become. That can lead to tentative movements and more trips and falls. Many of the hip muscles are responsible for more than one type of movement in the hip, as different areas of the muscle act on tendons in different ways. When we do specific Yoga poses and sequences, we are targeting specific muscle groupings for a particular purpose. Find out why the iliopsoas muscles (aka hip flexors) muscles are important for keeping you walking tall and with confidence! Enjoy these few stretches that will help keep them lengthened and healthy.

Release Tight Hamstrings in under 3 minutes with Dynamic Sports Stretching

Erhard Rohrmüller, Soma-Kinetics Physiologist and E-RYT500, shares how one stretching sequence can release tight hamstrings, tight quads and low back tightness in just a few minutes. Working with antagonist muscle groups is the philosophy behind this blend of stretching, yoga and somatic movements.

5 for the Spine! Essential Movements in 5 Directions Every Day! with Justine Shelton

The way you move (and don't move) on an everyday basis creates the posture you have today. Having trouble standing up tall, bending down low, or turning to see what is behind you? Could be because your spine gets stuck in the same old limited movement patterns. Justine, Viniyoga Therapist, explains what happens on the inside of our spine if we don't move in all 5 of these directions every day!

Can You Still Squat? Try these Squat Basics and even a Squat Deluxe

Besides the obvious benefit of healthy knee and hip flexion, a squat gives our low back a big long stretch. It's actually one of the daily recommended antidotes to sitting which compresses the spine. If you have low back tightness and pain, think about gently moving into a halfway squat to start out. This video gives you 3 squat options and a "go for it double-dare-you" pose at the end.

Surya Namaskar: Sun Salutations for Everyone! with Jennifer Monroe

Yoga Teacher, Jennifer Monroe, offers up three different versions of Surya Namaskar (aka Sun Salutations) that will meet you where you are today and beyond. Starting with blocks for modifications, Jennifer guides you initially through the classical version and then progresses you onto the A and B versions of the sequence.

Hip Health: Hold or Flow? Chair Yoga Sequence with Sherry Zak Morris, E-RYT

Tight hips and tight back muscles can aggravate sciatica. But, getting into those tight spots and stretching those areas can be tricky. This "Strap-asana" series takes the hips through all its natural movement patterns. There are holds to strengthen and flows to loosen. Grab a belt and give it a try. Enjoy the special "Give and Receive" vignette intertwined in this sequence that was created by fellow Yoga Vista Teacher, Pinush Chauhan.

The "Go To" Yoga pose to improve your Immunity with Viniyoga Therapist, Justine Shelton

Your lymphatic system helps to regulate your immunity by flushing out toxins and waste products. Primary lymph nodes are located around the armpit and groin area, and contracting in these areas helps to flush out the lymph nodes and remove impurities. Eagle pose is a great example of this type of contracted energy that supports a healthy lymph system. Join Justine as she shares this cleansing pose and follows it with a guided visualization for healing.

Quick and Effective Yoga "Band-aid" for Low Back Pain with Justine Shelton, E-RYT500

Can't lie flat on the floor or on your belly because of low back pain? Learn what is happening in your spine when you are in those positions, and what you can do to RELIEVE low back pain and bring healing to that area. Certified Viniyoga Therapist, Justine Shelton, discusses why certain Yoga movements are beneficial for your low back and why some are not.

Tight Shoulder Relief! 2 Ways to Break through Tightness and Tension with Sherry Zak Morris

If you are like many of us, tight and achy neck and shoulders muscles can limit the way you move. And of course cause you pain and discomfort. Try these two movement strategies to break up the tight binding feeling around your shoulder blades. You know if you are doing it right if it "hurts so good". Add these two movements to your daily unwind routine... you will be glad you did!

(1 Hr) Posture Conscientiousness for Seniors - Workshop with Sherry

If you think working on your posture is ... well, work. You are right. Our posture is something we need to be continually aware of when we are going about our daily activities. This workshop will help you find creative ways to "right" your posture so that it starts to become second nature.

Strong Legs, Safe Back with Justine Shelton, Certified Viniyoga Therapist

You've heard it from us before, holding a pose for at least 5 rounds of breath creates "good" stress on your bones and muscles which strengthens them. And slowly, stretching and bending in a safe way helps to release tension and stress that can cause you pain. This video incorporates both! A pose for your strong legs and bones... and a safe forward bend for nurturing your low back.